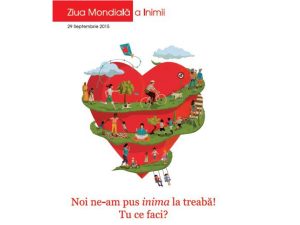 World Heart Day was created in 2000 to inform people around the globe that heart disease and stroke are the world's leading cause of death, claiming 17.3 million lives each year and the numbers are rising. By 2030, it is expected that 23 million people will die from cardiovascular disease annually, unless immediate measures are adopted.
World Heart Day takes place on 29 September, each year. The event is organized worldwide by the World Heart Organization to raise awareness among the population of the world about cardiovascular risk factors and determine a change of attitude towards adopting a healthy lifestyle.
In Romania, World Heart Day is organized by the Romanian Heart Foundation in partnership with the Romanian Society of Cardiology, a member of the World Heart Organization as of 2005.
2009
2010
2011
2012
2013